Spinal Decompression Therapy In Highlands Ranch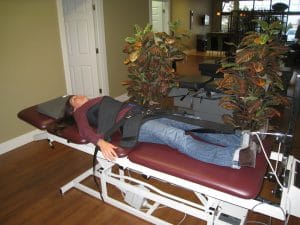 Spinal Decompression utilizes gentle distractive forces to help heal spinal associated problems such as herniated discs, sciatica and localized low back or neck pain. The traction forces used in spinal decompression helps improve blood flow and nutrient flow to the injured disc or joint. Each session lasts around 30 minutes of gentle distractive forces followed by relaxation phases to help the disc heal.
Decompression helps with:
Herniated discs
Bulging Discs
Sciatica
Neck Pain & Headaches
Low Back Pain
Numbness & Tingling down your legs or arms
Spinal Decompression can save you from having neck or back surgery. Call our office today to see if you are a candidate for Spinal Decompression therapy – (303) 346-4949.
Decompression Treatment Packages
Individual Treatment – $100
10 Treatments – $900
20 Treatments – $1700
Monday
7:30am - 12:00pm
2:00pm - 5:00pm
Tuesday
10:00am - 2:00pm
Wednesday
7:30am - 12:00pm
2:00pm - 5:00pm
Thursday
10:00am - 2:00pm
Friday
7:30am - 12:00pm
Saturday
Closed
Sunday
Closed

Premier Chiropractic & Natural Medicine
4004 Red Cedar Drive
Highlands Ranch, CO 80126
(303) 346-4949