Chiropractor Nick Caras D.C.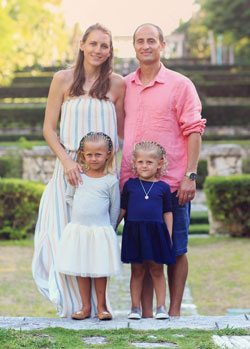 Dr. Nick Caras has been in private practice since 2004. He graduated from the prestigious Palmer College of Chiropractic in Davenport, IA. Since graduation, Dr. Caras has opened and operated two highly successful chiropractic and rehabilitative clinics. His first clinic was in Bettendorf, Iowa from 2004 through 2008. While in Bettendorf, Dr. Caras was the Team Chiropractor for several Professional Sports teams including Arena Football, NBADL, and a triple-A baseball franchise. After Dr. Caras married his wife, Heather, they relocated back to her hometown of Highlands Ranch CO. Dr. Caras now dedicates his time to helping families, athletes, kids and adults of Highlands Ranch CO and the surrounding areas.
Before attending Chiropractic College, Dr. Caras was a pre-med major at St. Ambrose University in Davenport, IA. Along with his pre-med curriculum, Dr. Caras also played college basketball for St. Ambrose University. It was during his playing days that Dr. Caras discovered Chiropractic. While playing college basketball, Dr. Caras had a few injuries that his local Chiropractor helped out with, and this is where Dr. Caras fell in love with Chiropractic and decided to dedicate his life to helping others.
In 2012, Dr. Caras completed a Diplomate degree in Wellness science. This is a 2 year program for Chiropractors and medical doctors who want to advance their learning in Functional Medicine, Nutrition, Detoxification, and how to help patients with chronic degenerative diseases without the use of prescription medications. With this advanced degree, Dr. Caras has helped many patients with a number of health issues including cancer, heart disease, diabetes, ADHD, depression, anxiety, acid reflux, fibromyalgia, chronic fatigue, sleep apnea and many other conditions. Dr. Caras has also published a Health and Wellness book entitled "Detoxify Your Lifestyle," which is about the top health habits you should start incorporating in order to reach your genetic potential.
In his off time Dr. Caras likes to hang out with his wife and daughter (Heather and Alexandria.) They enjoy going to Broncos and Nuggets games, and you will often see them out enjoying the beautiful Colorado weather while walking and biking on the Highlands Ranch CO greenbelts. Dr. Caras also spends a lot of time writing and researching health and medical issues. With 2 published health and wellness books already under his belt, Dr. Caras is now working on a "Healthy Pregnancy" book that should be out soon.
---
Please read an excerpt from one of my books.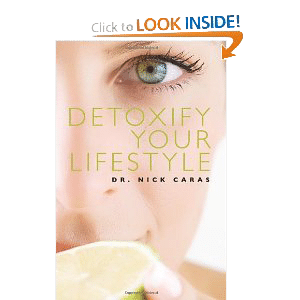 Dr. Caras' Amazon Best-Selling Health & Wellness Book
Detoxify Your Lifestyle
What could be simpler than learning ten lifestyle habits in ten chapters? Nothing, and in Detoxify Your Lifestyle, author and wellness guru Dr. Nick Caras clears and un-complicates the simplest path to health and wellness. With all the complex and overwhelming information thrust at the American public, it is often difficult to decide which is the less of many evils, but now readers can enhance their lives—and their golden years. Naturally charged, this diet and lifestyle guide has an eye for organics, fish oil supplements and all things green. With a highly readable text, the author engages his audience with quizzes, guideline excerpts, tips and charts that are scattered through this meticulously organized guide with chapter titles like, "Your Gut and Bacteria" and "Cleaning Out Your Kitchen." A veritable template for health conscious individuals who wish to be kinder to their systems, this book is a must-read for those who want to take their lifestyle to the highest level of health.
---
Office Manager Lauren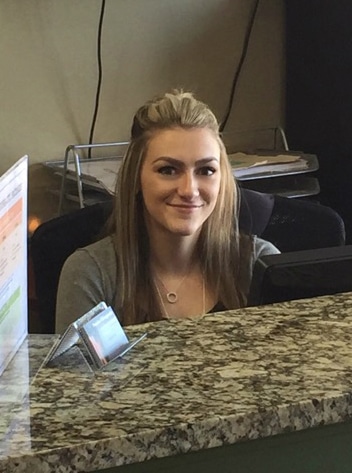 Lauren was born in Littleton, Colorado and grew up in Highlands Ranch. She graduated from the University of Northern Colorado with a B.A. in Psychology. While in college she was a member of Sigma Kappa Sorority.  Lauren wants to pursue a career in clinical psychology in the future.
Lauren was introduced to chiropractic at a young age to treat her scoliosis. She has been to multiple chiropractors and spine treatment centers. Her personal experiences with chiropractic brought her to Premier Chiropractic in 2015, where she continues treatment with Dr. Nick Caras.
In her free time she enjoys playing the piano, painting and spending time with friends, family and her dog.
Monday
7:30am - 12:00pm
2:00pm - 5:00pm
Tuesday
10:00am - 2:00pm
Wednesday
7:30am - 12:00pm
2:00pm - 5:00pm
Thursday
10:00am - 2:00pm
Friday
7:30am - 12:00pm
Saturday
Closed
Sunday
Closed

Premier Chiropractic & Natural Medicine
4004 Red Cedar Drive
Highlands Ranch, CO 80126
(303) 346-4949