Webster Technique for Pregnant Women in Highlands Ranch CO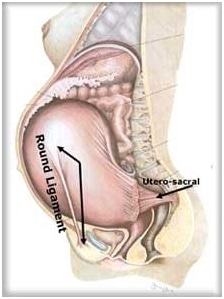 After watching his daughter go through a long and painful labor with a breech baby, the late Dr. Larry Webster developed a technique to restore normal physiological function and balance to the pelvis of pregnant women called the Webster Technique.
During pregnancy, many changes occur in the mother's body to accommodate the growing fetus. Whether hormonal or physical, these changes often cause some form of discomfort to the expecting mother. One of the major causes of pain in the lower back stems from changes in the pelvis. A hormone called relaxin is released to allow the pelvic ligaments to relax and stretch to make room for the expanding uterus. This can also cause instability in the pelvis, which causes nerve pressure and pain. The round ligaments (which hold the uterus in suspension) also become tight as the uterus grows. The Webster Technique re-stabilizes the pelvis and releases tension from the ligaments, allowing the baby to move freely (and downward to prepare for birth), as well as easing pain and pressure in the low back, hips, and pelvic area.
Dr. Caras is trained to work with women who are working to become pregnant, currently expecting, or postpartum.
Benefits of the Chiropractic Webster Technique include:
Turning a Breeched baby
Relief of Back Pain
Relief of Sciatica
Reduced discomfort/difficulty during labor and delivery
Controlling nausea
Reduced occurrence of cesarean delivery
Overall reduced delivery time and more comfortable labor
Monday
7:30am - 12:00pm
2:00pm - 5:00pm
Tuesday
10:00am - 2:00pm
Wednesday
7:30am - 12:00pm
2:00pm - 5:00pm
Thursday
10:00am - 2:00pm
Friday
7:30am - 12:00pm
Saturday
Closed
Sunday
Closed

Premier Chiropractic & Natural Medicine
4004 Red Cedar Drive
Highlands Ranch, CO 80126
(303) 346-4949