---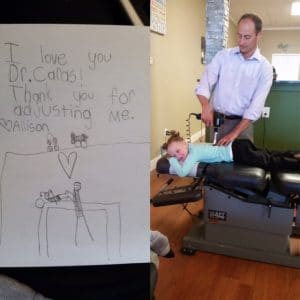 ---
Highlands Ranch Chiropractor, Dr. Nick Caras, receives 5 Star reviews for one main reason - He truly cares about his patients.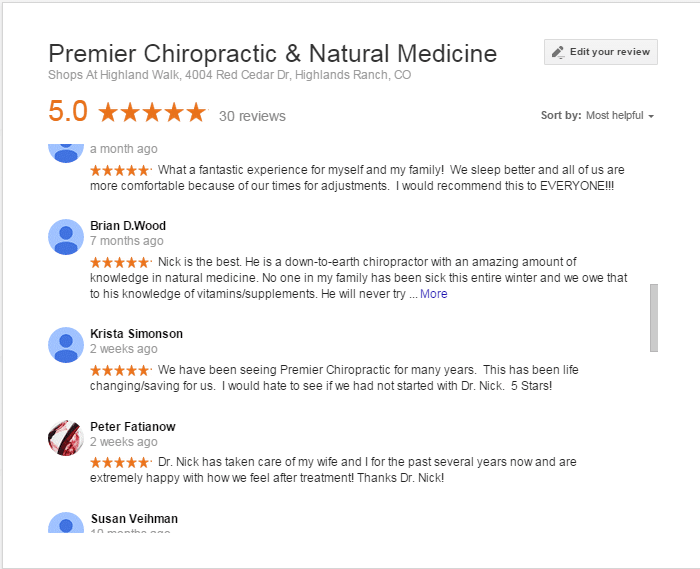 ---
"Hey Dr. Caras! Thanks for this email and reassuring everyone that coconut oil is good for you. I actually had not even heard about the USA Today news as I rarely watch the news for this reason-loads of garbage usually. Now if I croak because of coconut oil, I am sure you will offer to pay for my funeral right?!?!? We have a spoonful every morning and I am not worried one bit. The vegetable oil suggestion is nuts!!
You would be so proud (not that you have to be because I am a grown up-lol) but we brought many avocados and other WF goodies with us to South Dakota. No way I can find healthy organic food here. Gotta get our avocado a day in! Thanks for your awesome coaching and I love your book too! Little changes are huge-Allison got a tracker-Garmin Vivofit JR…coolest thing ever! And motivating her even more not that she needs it but it is great. Tracks steps, active minutes, chores, etc. I love hearing…"mommy, I gotta get moving to get my active minutes in!" Ha! I also (after reading your book) got a fitbit-I have got 20k steps in a few times and always over 15k daily. I will get there-thanks for the extra push.
I will be in to get adjusted next week and pick up my Omega.
You have been such a positive welcoming influence on our family. Thank you for that."
---
"Dr. Nick Caras is the best chiropractor to see in the Denver metro area and after seeing multiple chiropractors and attending a spine treatment facility, I can say that with the upmost confidence. Until seeing Dr. Nick I was unaware that there was more I could be doing to treat my scoliosis than just receiving adjustments. One of the unique qualities about his practice is that he implements dietary advice, which actually plays a large role in recovery. I have had continuous inflammation surrounding my spine for years and I never knew that what I was eating, was contributing to the inflammation.
I was also really impressed by the fact he gives his patients specific physical therapy exercises, if needed. I have never seen a chiropractor do this and only received this attention at my spine treatment center. With all of his suggestions as well as the adjustments you are given a chance to take your recovery to the next level. If you want a chiropractor who cares about their patients and is knowledgeable in multiple areas of discipline, then Dr. Nick Caras at Premier Chiropractic is the doctor you should see."
---
"I've been a fan of chiropractic medicine my entire life. Spinal Manipulation, Low Force Chiropractic Technique, Traction Manipulation. You name the discipline, I've probably tried it. Dr. (Nick) Caras is one of the best, hands down, no kidding, well rounded, chiropractors I've ever had the pleasure of working with. He is attentive, very observant, joyfully personable and incredibly knowledgeable about his craft. He provides care for our entire family, including our eleven-year-old soccer star. For injury recovery, chronic pain, or just general maintenance - Dr. Nick should be your first stop."
---
"Dr. Nick always finds time to fit his clients in, even on short notice. He is very smart, has great 'bedside manner' and knows his science/art! I have recommended him to anyone who has ever mentioned they were in search of a chiropractor. Thanks for being there for our family, Dr. Nick!"
---
"Nick is the best. He is a down-to-earth chiropractor with an amazing amount of knowledge in natural medicine. No one in my family has been sick this entire winter and we owe that to his knowledge of vitamins/supplements. He will never try to sell you something you don't need but he is willing to answer any question you might have. He is never pushy and always informational. I will never go to another Chiropractor in Highlands Ranch."
---
"I have been going to Dr. Caras on a weekly basis for more then four years. Not only has Nick helped keep my pesky neck issues (bulging discs) at bay, he has also helped work out all my kinks from my strenuous workouts, from neck to back to shoulders and hips and more. He does it all! Premier Chiropractic is a very clean and friendly atmosphere that I have and will continue to recommend to everyone."
---
"THANK YOU FOR HELPING ME TO FEEL SO MUCH BETTER!!! Dr. Caras is amazing. I suffer from bad headaches and sometimes migraines. Usually, the head pain is relieved or completely gone after my adjustment, and the pain stays away for weeks. I love that he can usually fit me in when I really need it. He also treats me like a whole person - not just focusing on moving my bones, but helping me create a better life. Dr. Caras is kind, personable and gives the attention that's needed to help me feel better. Another thing I really appreciate is that while I'm given really good advice about how to maintain my health, I am not asked to come for adjustments at a more frequent rate than I actually need. I feel seen, cared for and I know I'm being dealt with honestly.
Thanks Dr. Caras."
---
"When you have a chiropractor who also leads you into a better lifestyle, he becomes a coach. Nick is amazing in getting my body back to peak performance. His lifestyle suggestions work and he is just not a "fixer upper"...but a good human."
---
"Dr. Nick is a dedicated and top-notch Chiropractor!! He saved me from having surgery on my back and taking endless pain medications. I have completely recovered and can enjoy life to the fullest! I highly recommend Dr. Nick to anyone who wants an honest practitioner that cares about your health and wellbeing!!"
---
Chronic Pain
"After my first visit I realized I had been experiencing chronic pain day and night between my left clavicle and spine.  Prior to my visit I thought it wasn't "as bad" but once I was totally free of pain the contrast was significant.  Only four times has this pain returned, lasting 1-2 hours when particularly stressed, working hard or overly fatigued, and I can now "work through" the pain to ease its subsiding.  Prior to my first visit I slept with a variety of pillows in various positions to ease my comfort.  Since the first night of slowly removing pillows one by one, by morning I slept normally with one pillow and this continues-it's wonderful.
After 1 ½ – 2 years of getting up every night every 1-2 hours to urinate, most rights I now get up only once.  One night I slept 5 1/2 hours straight.  Another was 7 1/2 hours!…"
- Sandra, Nurse, 39, Highlands Ranch CO
---
Elbow and Wrist Pain
"Since I am a massage therapist, my income depends on my health.  I feel very fortunate to have found Dr. Nick Caras.  I consider him a real maverick in the chiropractic and natural health field.  I came to Dr. Caras approximately one month ago with a history of pain and limited range of motion in both my spine and upper extremities.  The results Dr. Caras achieved over the last month have been amazing.  My health has improved to pain free and nearly full mobility.  I believe there are several things that set Dr. Caras apart from other chiropractors I have seen over the years.
First, Dr. Caras does not accept that patients should tolerate pain or other symptoms.  Recovering health is a realistic option for many people, including me.  I previously thought I would have to live with my symptoms.  I feel better now than I have for as long as I can remember.  After three visits a week, I have now graduated to a maintenance program of once a week, decreasing to once a month.
Second, Dr. Caras does head-to-toe adjustments during each visit.  To me, that's a sign a chiropractor really cares and is practicing a truly holistic approach.  The body is a complete structure and everything works together.  He even adjusts my ankles, which I have never had done before.
Third, I have searched extensively for chiropractors trained in adjusting extremities.  This seems to be a real art.  Dr. Caras also helped me with thumb, wrist and elbow problems.  He rechecks and adjusts them as needed every visit.
Finally, Dr.Caras walks the walk.  He not only promotes a healthy lifestyle, but lives it fully.  You can tell just by looking at him down to his clear complexion and eyes.  He shares health information regularly with his clients and provides handouts to read while lying on the therapeutic rolling bed.   Some of the information I have gained from him, such the importance of Vitamin D and fish oil, have been life changing.  He has also published books on detox and other health issues.
I recommend Dr. Caras for anyone in need of improving their health."
- Debbie, Highlands Ranch CO
---
Pediatric Chiropractic Care
"Kaitlin is amazing! (age 4) From the time she was six months old she has spent every other month on some sort of medication or inhaler.  She has been coming to see Dr. Nick for about a month and a half.  In that time she has had no medication of any kind and has been healthier than ever!  Yesterday I asked her if she feels any different since she's been seeing the chiropractor. She said, "Yes, my bones crack a lot and it feels so good!" A while later she didn't know I was watching her bit I saw her move and adjust her own back and she let out a huge sigh of relief.  Later that same night she burst into tears.  I asked her what was wrong and she said she didn't know, she just wanted to cry.  I held her and told her to cry all she wanted.  I knew she was having a wonderful release.  I have had some of those myself!"
- L.C., Mom, 32, Highlands Ranch CO
---
Low Back Pain and Sciatica
"I have had knee problems for 40 years and combined with a lower back injury 4 years ago, I started having terrible pain associated with sciatica.  One year ago I was in so much pain that it was hard to get out of bed and enjoy a 'normal' day.  After suffering for a year, I decided to try chiropractic treatment.  Thank God for Dr. Nick.  After only 3 weeks of adjustments, I am almost pain-free!  I can get out of bed with no pain and look forward to a 'normal' day of activity, without pain during the day.  Thanks Dr. Nick!"
- Cheryl, Littleton, CO
---
Neck Pain
"Dr. Nick Caras is a serious business professional.  He has a professional, caring and attentive attitude towards his patients.  I have personally witnessed how ALL his patients shower him with accolades and appreciation.  In today's business world where bad service is seemingly common place, Dr. Nick sets the standard for excellence with superior service and knowledge.  After seeing Dr. Nick for six weeks, I am no longer experiencing the pain that I have struggled with for years and have much better flexibility and range of motion.  I would personally refer anyone to Dr. Nick, you will be glad you saw him!"
- Jennifer
---
Tendonitis and Chronic Migraines
"Dr. Nick took away my painful conditions!  My foot pain resulted in wearing shape-up shoes which distributed too much weight on the tops of my feet, causing tendonitis.  Drugs didn't fix any of the problems I had.  Thanks, Dr. Nick."
- Ann, Golden, CO
---
Fibromyalgia
"I had been injured at work and was unable to sit without being in tremendous pain.  I came to see Dr. Nick Caras on the recommendation of my brother.  Through his educating me and his treatments, within months I was able to sit without pain.  But even more importantly, the fibromyalgia that I had been diagnosed with four years before and was being treated with DRUGS, had diminished.  I stop taking all my medicine and four months after I started getting adjustments I had absolutely no symptoms.  My headaches stopped, my muscle pain stop, and I was sleeping through the night.  I feel healthy and alive again.  I feel light running through my body freely.
I now have my children ages 10 and 14 also coming to see Dr. Nick.  My teenager who is over 6 feet tall does not experience the pain of his bones growing and has been able to increase his physical power.  My 10 year old who is a classified student has improved academically and verbally is able to think more clearly.  He has also lost over 16 pounds and feels good inside his body. When I had to have thyroid surgery, I continued my adjustments with my Dr. Nick.  He treated me differently and has been helping my body adjust to the trauma.  I did not take any pain killers or drugs of any kind when I left the hospital.  It was not needed.  Dr. Nick kept my body flowing on itself.  Chiropractors are not Gods and don't claim to be.  But…they are angels. Dr. Nick has helped me to make my life a healthy one and a much happier one."
- Dawn, Castle Pines, CO
---
Headaches
"Dr. Nick is a true professional and wealth of knowledge in the wellness and chiropractic fields.  He takes the time to listen and educate you on things you can do to improve your livelihood and well being.  Dr. Caras makes you feel very comfortable and every visit is a new experience!  I highly recommend going to Dr. Nick Caras for all of your wellness and chiropractic needs."
- Matt
---
"Premier chiropractic fixed my back pain fast. After trying other doctors and clinic, Dr. Caras got to my problem quickly and had me fixed up and running again in less than 2 weeks."
- Mike
---
"Best chiropractor in Highlands Ranch. Dr Nick is wonderful and has truly helped me with my sciatic pain. He's also helped my son & husband. I highly recommend to all!!! Premier chiropractic is a definite 5 star company."
- Linda
Monday
7:30am - 12:00pm
2:00pm - 5:00pm
Tuesday
10:00am - 2:00pm
Wednesday
7:30am - 12:00pm
2:00pm - 5:00pm
Thursday
10:00am - 2:00pm
Friday
7:30am - 12:00pm
Saturday
Closed
Sunday
Closed

Premier Chiropractic & Natural Medicine
4004 Red Cedar Drive
Highlands Ranch, CO 80126
(303) 346-4949